Submitting your data return
Here is where you will find all the information needed to submit your data return to us, whether this is your annual or monthly submission (or other pay period basis), via the UPM employer portal.
Please note
For employers who are submitting their final annual data return, we need to have processed it before you can submit your first monthly data return. We'll notify you when we've done this, so that you know when to go ahead with your new submission.
Template and specification
In order to submit your data returns, you'll need to download the appropriate data returns template.
You'll also need the pension specification document, as it provides a complete list of all the data requirements, along with formats and examples.
Make sure you share these documents with any relevant colleagues (including third party payroll providers).
You may find these guides useful – all are applicable for submitting both your monthly and annual data returns to the UPM employer portal.
Top five tips to ensure your data file doesn't error when uploading
Check your employer code is a five-digit number (and include some leading zeroes if it isn't one).
Check the header row on your file is deleted (so your data begins on row 1).
Check the date is in the correct format (so it reads DD/MM/YYYY).
Check there are no commas in the data (so the columns don't misalign).
If you've recently sent us your final annual data return, check you've received a notification from us to say it has been processed (you can't send us another data return until processing is complete).
For more information on these tips and others, see the FAQs…
Timeline for sending monthly returns
All schemes are now submitting their monthly data returns
• Deadline for submitting final annual data returns for 2022-2023 – 28 April 2023

• Deadline for submitting monthly data returns – 10th of the month (6th for the Lancashire County Pension Fund)
Frequently asked questions
Specification & Template
Yes, all your new joiner details can be included in your monthly return, which means that no additional forms are needed. Alternatively, if your request is urgent, new joiners can still be added via the new joiner form on the UPM employer portal.
If you have already notified us of a joiner by completing and submitting the Web Joiner form on the employer portal, please don't mark them as a Y for a joiner on the monthly data template.  You should only mark them as Y for joiner if you are letting us know about the joiner for the first time.
No, although your leavers will be included in your monthly return, we will still require a leaver form for each member. The leaver form includes pay figures, which we need to calculate the benefits.
The member needs to be included on the monthly file up to, and including, the period that they are a member, and then removed for subsequent periods.
Receiving errors when submitting your data returns
Adding leading zeroes
1. To ensure your data return file does not error when it's being uploaded, you need to make sure that the employer code is a 5-digit number. So, it must include some leading zeros if it isn't (you won't need to add any if the code is already 5 digits). To do this, first open your data file in Excel and highlight column A (where you insert your employer numbers) as shown below.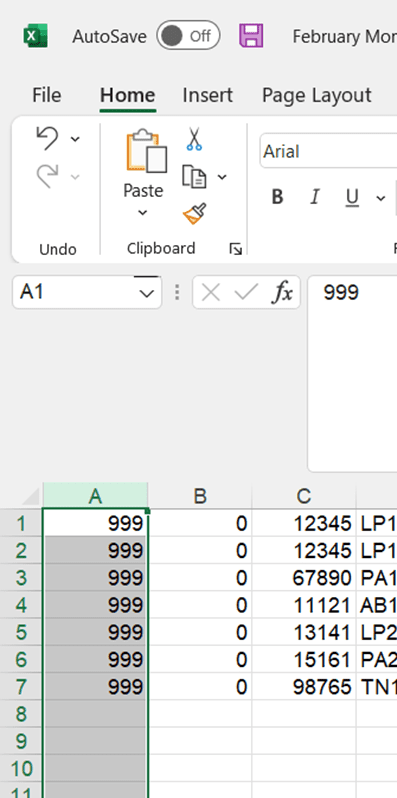 2. Right click in the highlighted column (A) and select 'Format Cells.'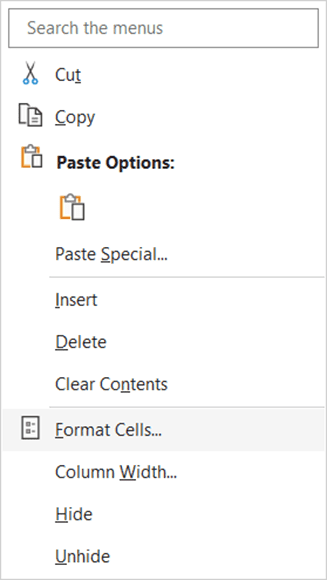 3. On the left of the Format Cells box in the 'Category' box (under the Number tab), select 'Custom.' Then, in the 'Type' box on the right, select '0' from the top of the list, as shown below.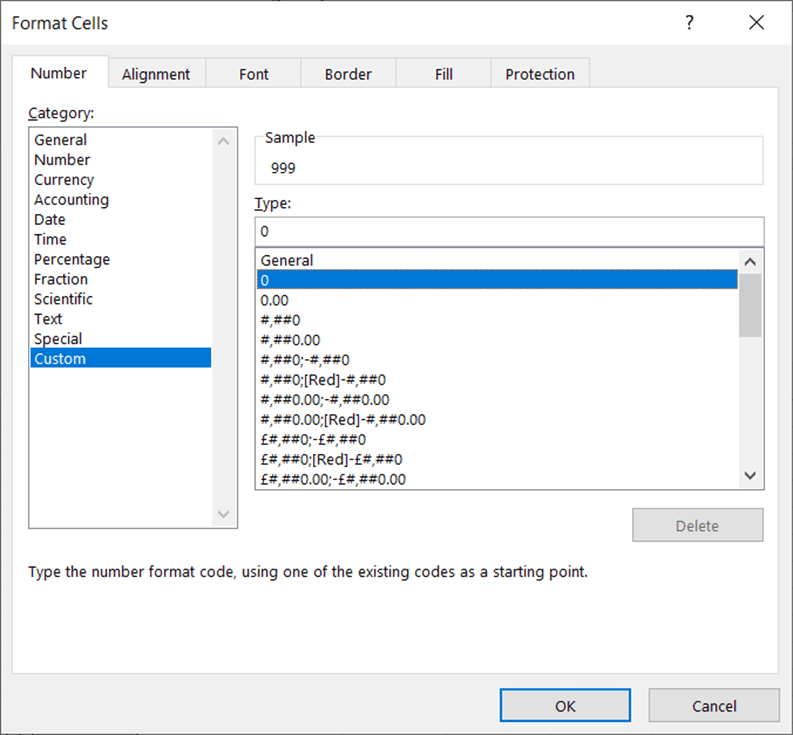 4. Under 'Type' enter '00000' (five digits) and click 'OK.'
5. You should now see that zeros have been added to the numbers in column A to make up five digits.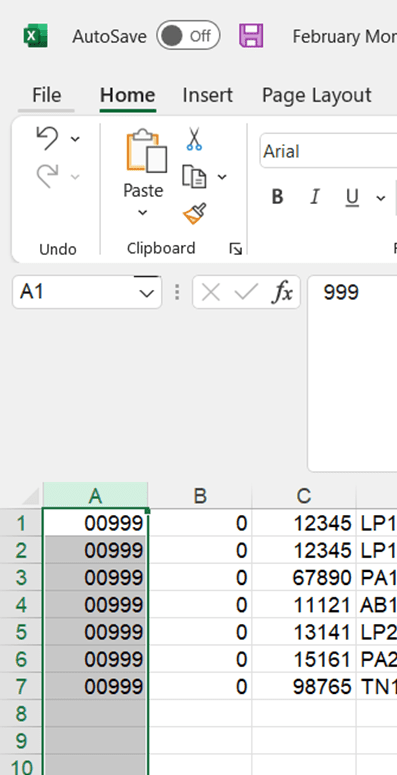 Check you've received a notification from us to say your annual data return has been processed. We need to have processed it before you can submit your first monthly data return. We'll notify you when we've done this, so you know when to send us your new submission.
CSV (comma-separated values) file queries
No, you don't need to give the CSV file a specific name when you save and upload it.
Yes. Before submitting your template you must remove the header row, remove any commas within the data and then save the template as a CSV (Comma delimited) file.
No, you can submit data for multiple employers on the one CSV file. We will identify which employer the data relates to from the employer code entered in Column A. It doesn't matter which employer code you enter when you start the upload process in the portal.
Submitting your data returns file
You will need to submit a data return for each pay period, so for staff who are paid weekly you will need to submit the data weekly, and for staff who are paid fortnightly, you will need to submit the data once every two weeks. Just remember to select the correct pay frequency and pay period start date in Stage 1 when you are uploading your file.
No, it's not currently possible to download a copy of the file once you have uploaded it to the portal, although you will be able to refer back to your own copy of the CSV file.
Don't worry, the size of your file may affect the time it takes to process it (up to around 10 minutes). You'll receive a notification in your Workfeed once this is complete.
What's changed in how you send your data to LPPA
If you already submit data to us monthly, you will still need to submit the data using our new template. Please download the new template and specification in plenty of time to make sure you are ready to use this new format when you switch over to the new process.
No, once you have moved across to monthly submissions you will no longer be required to submit an annual return.
If you are a London Pensions Fund Authority (LPFA) or Hertfordshire Pension Fund employer, please continue to submit your LG221 monthly via YourFund until further notice.
Yes, where it is appropriate, we will liaise directly with payroll providers, as we are conscious there will be larger providers providing services on behalf of multiple employers across both phases. Employers will be kept updated of any developments.
No, if you are a Lancashire or Cumbria employer, please continue to use the Contributions Remittance Master Sheet in the Your Pension Service Employer Area (Lancashire employers) or send direct to the fund in the same way as previous (Cumbria employers).
Unfortunately, there isn't a test system available to employers to test the upload of the monthly data returns file.