Taking the leap
Moving to another country can be a big decision, particularly if it's something you haven't done before. So, it's a good idea to do some research and look at the pros and cons of living abroad.  
Here are some things to consider: 
Rent or buy – think about what works best for you financially.
Full-time or part-time – Will you fly south for the winter and come home in summer?
Sell up or stay put – what you want to do with your current home in the UK?
High life or low cost – look into the average living costs and the services that are provided in the country you're considering. For example, what is the healthcare service like and what would it cost? 
Native or new language – would you be happy to learn a new language or would you prefer to move to an English-speaking country?
Close by or far away – think about the travel distance from the UK to your chosen destination. Do you want to be able to go back to the UK regularly to see family and friends?
Where in the world? 
As they say, 'the world is your oyster!' So how do you decide where your new home might be? 
For some inspiration, here is a breakdown of where our LPPA members are currently spending their time in retirement: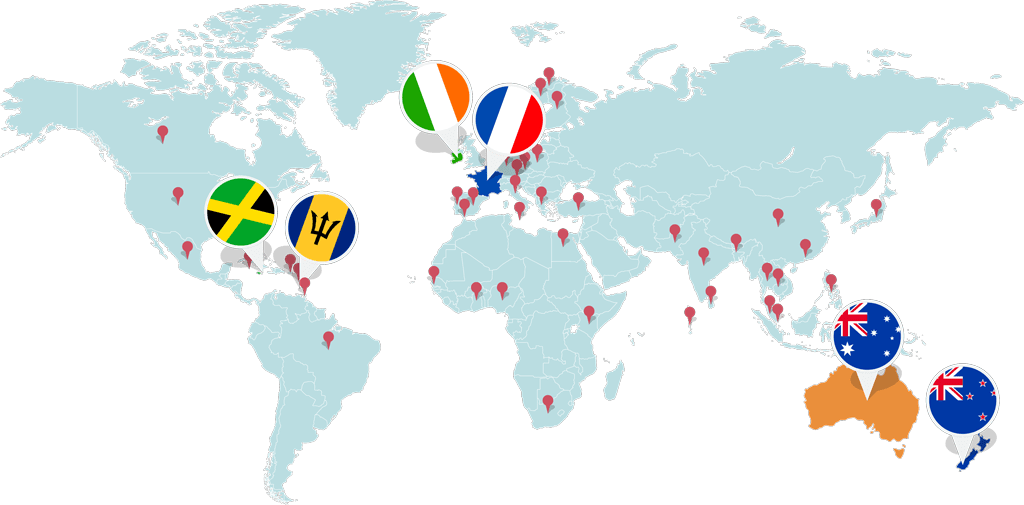 Top 6 countries
Australia – A great quality of life, beautiful views and coastlines, no language barriers.
Barbados – A friendly, local culture, easy to get around the island, it's always sunny.
France – World-class food and drink, conveniently close to the UK, good quality healthcare.
Ireland – Beautiful green landscapes, no language barriers, great people with a vibrant culture.
Jamaica – Amazing beaches and waterfalls, warm tropical weather, an abundance of cultural diversity.
New Zealand – A familiar culture and language, beautiful scenic views, a high quality of life.
How your work pension will reach you 
No matter where you are in the world, if we manage your payroll, we will ensure that your pension payments are made to you through your chosen bank account. Just be aware there may be a slight delay, if you live abroad (typically only a couple of days).
If you opt to spend time both in the UK and abroad, you must choose which country you want your pension to be paid in – Retirement FAQs • Local Pensions Partnership Administration (lppapensions.co.uk) 
Managing your state pension, taxes and benefits  
State Pension 
Your State pension works in a similar way. If you have paid enough UK National Insurance contributions to qualify, your pension will be paid to you either into your UK bank account or the country you're living in – State Pension if you retire abroad – GOV.UK (www.gov.uk)
Taxes and Benefits 
Taxes and benefits sometimes differ from country to country, but you may still be able to claim UK benefits. 
Remember, for tax purposes, you will need to tell HMRC that you're moving or retiring abroad to make sure you pay the correct amount of tax. Visit Moving or retiring abroad – GOV.UK (www.gov.uk) for more information.